Fifteen Years of the Prison Rape Elimination Act!
To Honor PREA's Anniversary, JDI is Celebrating the Movement that Made It Possible.
Back in 1995, a 17-year-old boy named Rodney Hulin, Jr., was sent to a men's prison for the crime of setting fire to a dumpster. The Clemens Unit was one of the most notorious prisons in Texas, Rodney's home state. Within days of his arrival, Rodney was raped and beaten by other inmates. He reported the abuse, but the staff did nothing to help him. When he asked to be moved away from his abusers, his request was denied. So the assaults continued. Desperate, alone, and with seven years left on his sentence, Rodney committed suicide in his cell.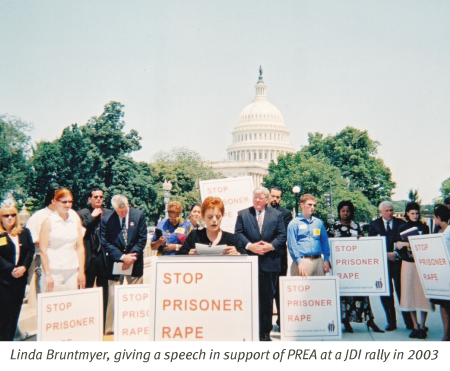 The case of Rodney Hulin, Jr., would become a potent symbol of the crisis of prisoner rape. Rodney's youth, the harmlessness of his offense, and the appalling details of his abuse made his story impossible to ignore. But the public outrage might have fizzled out were it not for the dogged determination of Rodney's mother, Linda Bruntmyer.
Linda is one of the heroes in the story of the Prison Rape Elimination Act (PREA), the landmark law that was passed 15 years ago. Fueled by grief and anger over her son's death, Linda joined a JDI-led coalition that was united in its belief that the government has an absolute duty to ensure the safety of the people it locks up. In June 2003, she took part in a historic JDI rally on Capitol Hill to demand PREA's passage in Congress. "This is not what we mean when we say justice," she told the gathering. "Rape should not be considered a part of punishment. Rape is always a crime."
At the Capitol Hill rally, Linda was joined by other advocates, including people whose lives had also been ripped apart by sexual violence in detention. One of them was Tom Cahill, JDI's former President and a prisoner rape survivor; it was Tom's tireless advocacy that brought the crisis of prisoner rape to the attention of Frank Wolf, a Congressman from Virginia who would go on to co-sponsor PREA in the House.
In her advocacy, Linda emphasized that what happened to Rodney was not an isolated tragedy. This abuse was systemic and widespread — it was also totally preventable. After listening to Linda's testimony at a Senate Judiciary Committee hearing on PREA, the late Ted Kennedy, a co-sponsor of the law in the Senate, made her a promise. "The best way that we can try and thank you," he told Linda directly, "is to do something, and we will."
Pushed by Linda and her friends at JDI, Kennedy was true to his word. The late Senator, together with fellow Senate sponsor Jeff Sessions and House sponsors Wolf and Bobby Scott, ensured the bill's smooth passage in Congress. When the law was signed by President George W. Bush, it was hailed as a human rights landmark — the first-ever federal legislation aimed at addressing the crisis of rape in detention.
At the same time, Linda recognized that PREA's passage did not mean that the fight to end this abuse was over. Together with JDI and its allies, she pushed for strong federal standards that were required by PREA. "We know that what happened to Rodney could have been prevented," she testified in 2005 before a federal commission tasked with developing the standards. "Rodney tried to ask for help, and I tried too. But nothing was done."
Finalized in 2012, the national PREA standards include provisions that target the dangerous practices that contributed to Rodney's suicide. Today, it is common practice for prisons and jails to train their staff on sexual abuse prevention and response, and specifically on protecting vulnerable detainees. Prisoners are being taught about their rights, and many more feel comfortable coming forward to report abuse. And crucially, staff are explicitly required to act on reports, including when they are made by a loved one on a prisoner's behalf.
Linda did not get to see the full impact of her advocacy. She passed away in December 2012, just months after the PREA standards were finalized. But she remains an inspiration for the movement to fight sexual abuse in detention. And no one who knew her, or heard her tell her son's story, will ever quit until there are no more Rodney Hulins.
To read the whole Action Update, click here.