JDI Celebrates PREA on Capitol Hill
At first glance, Jan Lastocy and John Johnson seem to have little in common. You might even assume they were adversaries. Jan is a prisoner rape survivor and JDI board member who has spent years fighting to hold corrections officials accountable. John is corrections to the core. He is the chief of the Miami-Dade Corrections and Rehabilitation Department (MDCR); he's also President of the American Jail Association.
But Jan and John are allies, united in their conviction that rape is not part of the penalty. Yesterday, this unlikely pair took center stage at a Senate briefing on Capitol Hill. Organized by JDI and Prison Fellowship — and co-hosted by Senators John Cornyn (R-TX) and Brian Schatz (D-HI) — the briefing celebrated the achievements of the Prison Rape Elimination Act (PREA) since its passage 15 years ago. In addition to Jan and John, the speakers at the event included JDI's Lovisa Stannow, Prison Fellowship's Craig DeRoche, long-time PREA champion John Kaneb, and former Congressman Frank Wolf, one of the law's original co-sponsors.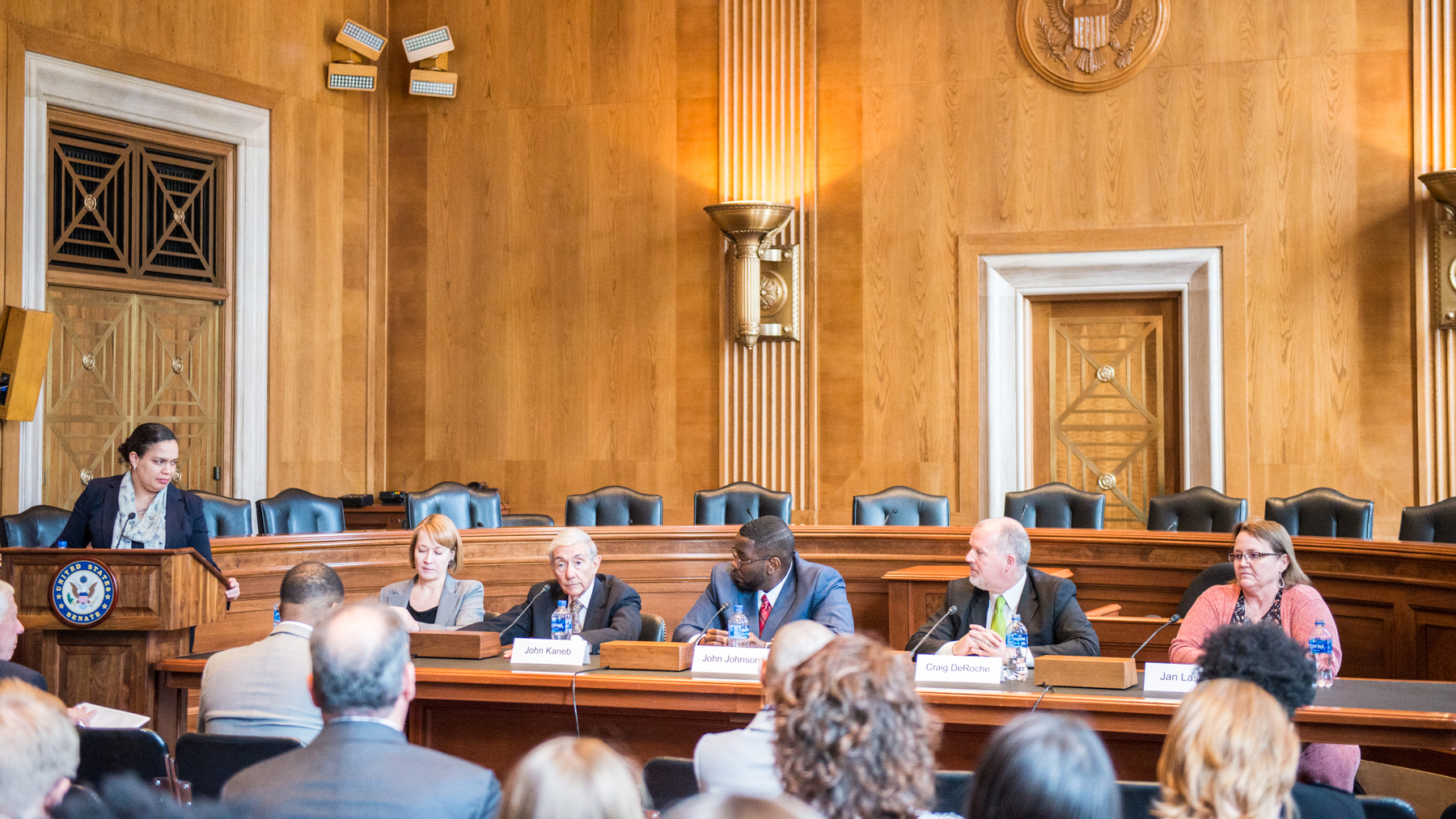 The panelists shared testimony that illuminated PREA's place in history. Jan credited the law with helping to elevate survivors from marginalized figures to powerful agents of change. In the corrections world, PREA's impact was just as dramatic. In one of the briefing's most stirring moments, John reflected on how a PREA-mandated report's damning findings about rampant sexual abuse in his jail prompted him to do a 180 on the law's merits — paving the way for his groundbreaking partnership with JDI.
Despite PREA's accomplishments, sexual abuse in detention is still widespread. It is possible to end this abuse, but doing so will require continued pressure from advocates, as well a firm commitment from Congress. Indeed, a key theme of the event was ensuring Congressional funding for PREA, and the Senate is poised to vote on the issue later today. 
The road ahead will not be easy. But with leaders Jan and John on the front line — and with people like you supporting them — we know that we will end this crisis, once and for all.
JDI was instrumental
in the passage of the Prison Rape Elimination Act, the nation's first-ever civil law addressing this violence.
Read more
On PREA's 15-year anniversary, we'll be celebrating people who have championed the law, like Jan and John. If there someone you know who deserves to be honored, let us know!
Email JDI

"PREA was a monumental achievement, and its passage ranks as one of my proudest moments as a member of Congress. But the law's most important task remains unfinished: putting an end to prisoner rape. It is this final step that, ultimately, will be PREA's greatest legacy."
– Rep. Frank Wolf (R-VA)