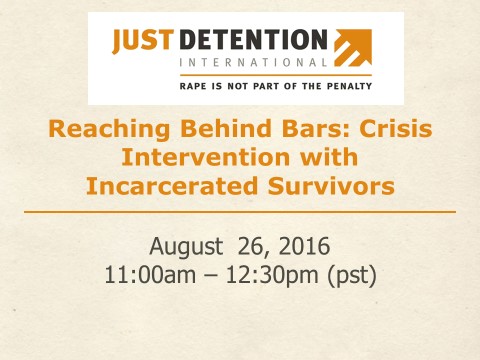 Reaching Behind Bars: Crisis Intervention for Incarcerated Survivors
Sexual abuse behind bars is a devastating crime that can shatter lives. But with high-quality rape crisis services, survivors of this abuse can heal. Reaching Behind Bars, a new webinar by Just Detention International, will guide advocates on helping incarcerated survivors. Specifically, the webinar will review the steps for delivering crisis intervention inside detention settings, where crisis services have long been lacking. Featuring speakers who have expertise in working in prisons and jails, Reaching Behind Bars will give advocates the skills, and the confidence, to help survivors get on the path to recovery.
Reaching Behind Bars is geared toward advocates who are trained in crisis intervention, but may have limited experience, or no experience at all, in confinement settings. The webinar will use real-life scenarios to illuminate the challenges of this work and how to overcome them.
The 90-minute webinar is for staff at rape crisis centers and other victim services agencies who want to work with survivors of sexual abuse in detention. No other prior knowledge is needed.
This series of webinars is being supported by the Department of Justice's Office on Violence Against Women.