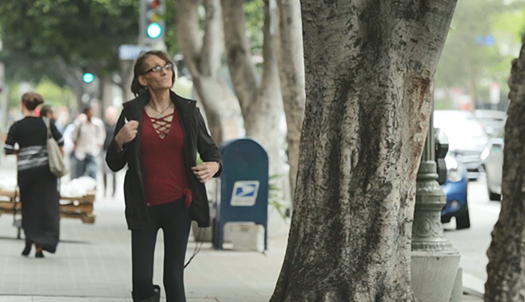 Michelle-Lael's Journey To Healing
Michelle-Lael Norsworthy is an advocate for transgender rights and member of JDI's Survivor Council. She spent three decades in men's prisons in California, before being released in 2015.

In this video, Michelle-Lael tells her story of survival behind bars — and how JDI made a difference in her life.
My Name Is Joe

JDI Survivor Council Joe Booth was sexually assaulted repeatedly while serving time in prison. In this video, Joe and Jessica Seipel, the rape crisis advocate who helped him heal after his assaults, talk about the life-saving support that advocates can provide to incarcerated survivors through written correspondence. Today, Joe helps JDI educate advocates and corrections officials nationwide about sexual abuse in detention and how to work with other survivors in need. The video was produced by JDI with support from the Department of Justice's Office on Violence Against Women.
PREA: What You Need to Know

This 16-minute inmate education video is designed to help adult prisons, jails, and lockups to meet the inmate education requirements of the Department of Justice's National Standards to Prevent, Detect, and Respond to Prison Rape (§§115.33 and 115.132).

For more information, including a link to download the video and the accompanying facilitator's guide, visit http://www.prearesourcecenter.org/node/1912.

Voices for Justice

The Department of Justice finally issued its long-delayed national standards aimed at ending the crisis of sexual abuse in U.S. corrections facilities. For years, prisoner rape survivors have been leading the fight to end this abuse. In this short video, members of Just Detention International's Survivor Council celebrate this historic occasion.
Troy's Story

Troy Isaac, a survivor of prisoner rape and member of JDI's Survivor Council, was just 12 years old when he was sexually assaulted by teenage boys at a California Youth Authority facility. Later in California state prisons, he suffered continuing sexual abuse and harassment. Mr. Isaac is committed to raising awareness about sexual abuse behind bars and shares his story about what he has done so far.
Dee Farmer Deliberately Resisted

Dee Farmer is a hero in the movement to stop prisoner rape. In 1989, Farmer, a transgender woman, was brutally raped by another inmate while she was serving time in a men's federal prison. In an amazing display of courage — and long before the Prison Rape Elimination Act — Farmer sued the government for failing to keep her safe. Farmer won her case in the U.S. Supreme Court, and today Farmer v. Brennan stands as a pivotal civil rights victory.

In this interview, Farmer talks about her life and the landmark case that bears her name.