JDI on the Ground
JDI works inside detention facilities across the country to develop policies and programs that keep people safe from sexual abuse.
With JDI's help, corrections agencies nationwide are taking concrete steps to end sexual violence. JDI trains staff on sexual abuse prevention and response, educates prisoners about their rights, and creates policies that increase safety for LGBT and other especially vulnerable prisoners. JDI also helps make sure that survivors in detention get the crisis services they need and deserve.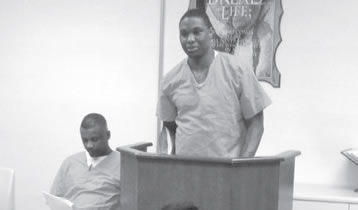 The opportunity to make real, meaningful change inside prisons and jails is made possible by the Prison Rape Elimination Act (PREA) standards. We fought long, hard, and successfully for strong PREA standards, which outline the minimum steps that corrections staff must take to prevent and respond to sexual abuse in their facilities. Since their release, we have joined forces with corrections agencies that are committed to adopting these lifesaving rules. JDI emphasizes that the PREA standards are a solid foundation — a starting point, but not an end point — for corrections staff to build upon to keep the people in their custody safe.
Our work inside prisons and jails is informed deeply by the experiences of prisoner rape survivors. By sharing their stories and their insight, survivors are helping to prevent this abuse from happening to anyone else.
"JDI made us all change. Sometimes jail staff forget that inmates are human beings, but the JDI team wouldn't let us."
Officer with Miami-Dade County Corrections and Rehabiliation Department

"JDI made me strong. I never stood up for myself before — and then finally I did, because I knew that JDI wasn't going anywhere. I knew JDI was going to stand firm when the peer education program needed them."

Maribel Reister, JDI Survivor Council member