What We Do
Sexual abuse in detention is a nationwide crisis — but it is a crisis that we can end.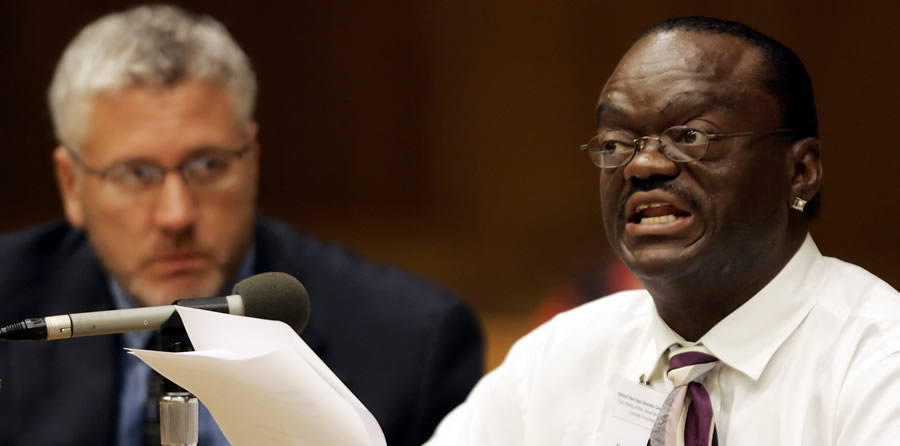 Survivors like T.J. Parsell (left) and the late Bryson Martel, seen here testifying in Washington, D.C., are leaders in the fight to end prisoner rape. Photo: Associated Press
JDI is the only organization in the world dedicated to ending sexual abuse in detention. We advocate for laws and policies that make prisons and jails safe, and fight to ensure that survivors get the help they need and deserve. We also work to transform the flippant and ill-informed attitudes toward prisoner rape — and toward prisoners themselves — that are obstacles to ending this violence. All of our efforts are guided by the principle captured in our tagline: rape is not part of the penalty.
JDI's work is making a difference. We won the passage of a federal law ­— the Prison Rape Elimination Act — which recognized that the government has a duty to end sexual abuse in detention. This law paved the way for our groundbreaking work with prisons and jails nationwide that is helping to ensure every prisoner's safety and dignity.
JDI was founded by a prisoner rape survivor, and survivors continue to play a vital role in our work. These courageous people are the driving force behind all of JDI's work, serving as spokespeople, educators, and policy experts. Above all, survivors have lifted this issue out of the shadows, showing that prisoner rape is a nationwide crisis that affects all of us.

"I'd like to say thank you from the bottom of my heart for all you and your organization's support. It really means a lot to have someone in society looking at me and seeing me as a human being and not just another number that no one cares about."
Anonymous prisoner rape survivor