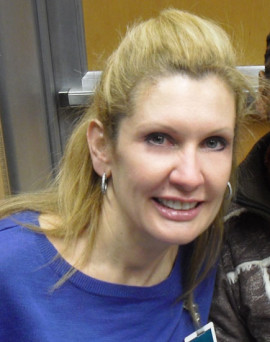 My name is Kimberly. I have spent approximately 15 years in state and federal prison on drug charges. In 2004, while incarcerated in a federal prison in Philadelphia, I was repeatedly raped by an officer with the Bureau of Prisons (BOP). I was manipulated, threatened, and forced to have sex with him.
These sexual assaults took place in a warehouse in the basement of the prison. He threatened that if I ever told anyone, he would hurt my family and my children – he claimed to know where they lived. I was terrified for myself and for my family so speaking to anybody wasn't an option. The final time that he raped me, I was badly injured and taken to the emergency room. I was hemorrhaging – and the medical report identified that I had been raped. When I told the captain what happened, he believed me. The officer was escorted out of the facility the next day.
Later, I found out that the officer had raped at least four other women, and another inmate's family had reported his conduct more than a year before he raped me. They wrote the BOP, asking them to investigate this officer. But the BOP did nothing — they swept it under the rug. After my report, the Bureau of Prisons finally conducted an investigation. Because I had the courage to come forward, several other women whom he had sexually assaulted came forward as well.
Three of us were transferred to another facility where I was fortunate enough to form a friendship with Martha Stewart. Not only was she one of my biggest supporters, she was able to give me contact information of people who would actually listen to me and hear what I had to say about what happened to me. I don't think that the staff at the facility took the rape seriously. In fact, many of the staff treated us badly because we had reported on "one of their own." Those officers never should have been able to access our files. Once again, our safety and security was jeopardized.
I wonder, had I not come forward, would the officer still be there? Would he still be raping women? The BOP is the entity that was supposed to keep me safe. How many women could the BOP have spared if they had taken notice of what they were told?
The officer eventually pled guilty to felony counts of engaging in sexual acts with three women inmates. He received only a four-month jail sentence and three years of probation. At first, I felt a lot of anger because of that – I felt that he got a lesser sentence because we were prisoners and we did not have rights. But the truth is, he could have gotten life in prison and it wouldn't have taken away the pain I was left with from what he did to me.
What makes my case especially alarming is the fact that the BOP was notified about this officer but continued to allow him to work in that position, knowing what he had done and could do to someone else.
The memory of the rape will never go away – but I can decide how to deal with it. Some of the women involved in my case still have a hard time dealing with the trauma — they feel scared, mistrustful and blame themselves for what happened. That is part of the reason you are reading my story now. Hopefully, I can be a voice for them, too. I had two choices after the rape: move on or let it kill me. I chose to move on. I started my own business. I am an advocate for this cause. I have support from my attorney, my family, and my fairy godmother. My probation officer is one of the fairest, most respectable men I know.
The trauma of this experience has caused me serious harm. I developed an eating disorder and other problems. I experienced loss of self-esteem, loss of self-confidence, guilt, and shame. It took something from me that I can never get back. The worst part of this whole thing is that it could have been prevented. The judge sentenced me to be imprisoned, not to be raped.
– Kimberly, Kentucky
Back