Immigration Detention
JDI fights to end the sexual abuse of people held in U.S. immigration detention facilities. Our efforts are rooted in the principle that all detainees deserve to be safe, regardless of their legal status.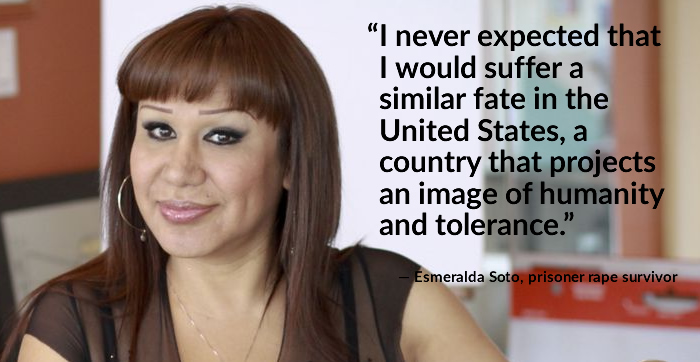 Sexual abuse in the U.S. immigration detention system is a widespread yet hidden crisis. Many survivors of abuse in immigration detention are afraid to report. They are likely to be unaware of their rights and to face language barriers. Survivors often fear — with good reason — that they will be deported if they speak out. JDI Survivor Council member Esmeralda Soto, a transgender woman who was sexually abused by a staff member in a California immigration detention facility, said:
"I felt a constant pressure to retract my complaint against the officer, but I did not want to give in. Unfortunately, an officer misled me into signing a form in English that he said had to do with housing. I later found out, through my lawyer, that I had signed a voluntary deportation agreement."
For years, we and our allies have pushed for stronger protections for people in immigration detention. Thanks to our advocacy, in 2012 President Barack Obama signed an executive order directing any federal agency with confinement facilities to issue standards addressing sexual abuse, based on the Prison Rape Elimination Act. The executive order applies to the Department of Homeland Security (DHS), which runs the U.S. immigration detention system. The order also covers the Department of Health and Human Services (HHS), the agency responsible for the safety of unaccompanied minors entering the U.S.
In 2014, DHS released strong standards aimed at protecting its detainees from sexual abuse. They include many provisions that we championed — such as key protections for LGBT detainees, independent audits of facilities, and detainee education on sexual abuse prevention. Unfortunately, the standards also have several flaws. Most notably, they lack a firm deadline for detention facilities to put the standards in place. In 2015, HHS issued interim standards which, like DHS rules, were robust overall — but they need to be better. HHS must improve the process for investigating allegations of abuse, and it must provide services to any child who has been sexually abused in the past, regardless of whether the abuse occurred while the youth was in HHS custody.
JDI continues to advocate for the safety and dignity of all immigration detainees. We are urging DHS and HHS to adopt fully the parts of their standards that are strong — and fix the parts that are weak.