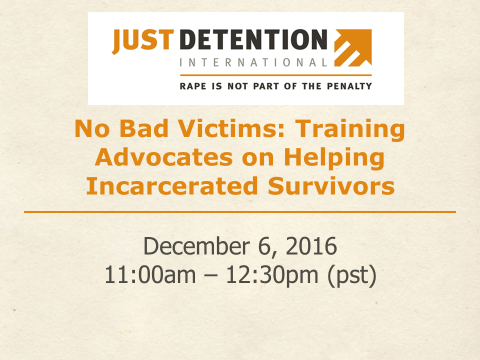 No Bad Victims: Training Advocates on Helping Incarcerated Survivors
State sexual assault coalitions can play a leadership role in delivering services to incarcerated survivors of rape.
All survivors of sexual abuse need and deserve quality rape crisis counseling. Period. Yet many prisoners do not receive any such support.
The good news is that, right now, rape crisis advocates have new opportunities to help these most vulnerable survivors. This is a critical moment for rape crisis centers — thanks to the Prison Rape Elimination Act (PREA) standards, prisons and jails must work to establish partnerships with local providers, so that survivors in their custody can receive the services they badly need.
State coalitions have the task of training their member agencies on providing services for incarcerated survivors, including inside detention facilities — an environment that is unfamiliar to many advocates. Just Detention International has produced a training curriculum called No Bad Victims, to help coalitions support their members in this work. The curriculum will be launched during a webinar on Tuesday, December 6.
The six-part curriculum covers everything that an advocate needs to know about helping incarcerated survivors. It explains the dynamics of sexual violence behind bars, reviews the unique challenges prisoners face in getting help, details the PREA victim services standards, and offers tips on navigating corrections settings.
The 90-minute webinar is intended for sexual assault coalitions as well as staff at rape crisis centers and other victim services agencies who want to work with survivors of sexual abuse in detention. No prior knowledge is needed. This webinar is being supported by the Department of Justice's Office on Violence Against Women.