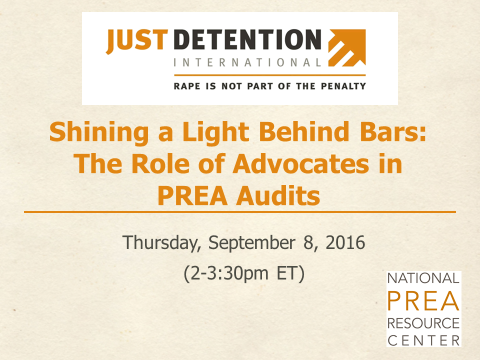 Shining a Light Behind Bars: The Role of Advocates in Prison Audits
Imagine receiving a phone call one day from a person hired to audit your local prison. The auditor explains that she is assessing the facility's efforts to prevent and respond to sexual abuse, and she wants to know about your work delivering services to prisoners there.
This is not as far-fetched of a scenario as it may seem. Every year, detention facilities nationwide are audited on their compliance with national Prison Rape Elimination Act (PREA) standards — including its requirement of providing inmate access to outside rape crisis services. A new JDI webinar, Shining a Light Behind Bars, will explain the PREA auditing process and will review the type of information that advocates are likely to be asked to provide. The webinar will also show advocates how they can participate meaningfully in the audits without compromising their relationships with facilities or, their clients' confidentiality.
The 90-minute webinar is for staff at rape crisis centers and other victim services agencies who want to work with survivors of sexual abuse in detention. No other prior knowledge is needed. This series of webinars is being supported by the Department of Justice's Office on Violence Against Women.